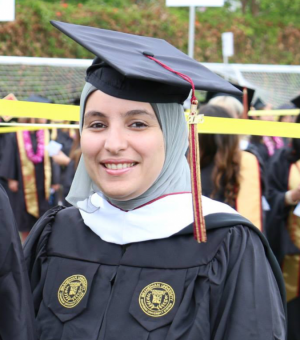 Essraa Nawar
---
Awards
---
CONNECTIONS





---
GUEST BOOK
---
Essraa Nawar
The degree of
Master of Library and Information Science
Virtual Convocation
2017
PROFILE
Current residence: Lake Forest, CA, US
I wanted to earn a masters degree because:
I wanted to fulfill my dream to become an academic librarian!
While earning my degree, my greatest supporters were:
My husband, my kids and my dean at the Leatherby Libraries at Chapman University.
While in the program, I met classmates from:
All over the country!
What I liked best about online learning was:
It was very convenient and flexible!
What I enjoyed most about my experience at the SJSU School of Information was:
The user-friendly software, the flexibility of the professors and the team approach!
I plan to use my degree to:
Become an Academic dean and to help librarians and libraries in the middle east to flourish!
Now that I have completed the program, I'm most looking forward to:
Free time with my kids and becoming a librarian!